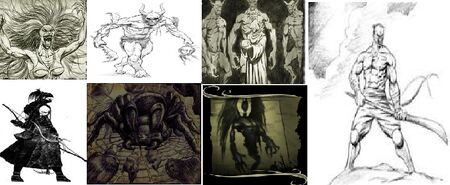 Much like his lord Balor, Soulblighter may have tried to have six powerful generals. This is further evidenced by Shiver being reanimated, The Summoner being forced to serve, Soulblighter getting Mercenary warriors to fight for him, and the most important part is the journal entry which states that Soulblighter is like Balor that doesn't seek to conquer but to destroy. With this being stated, the following would most likely be Soulblighter's six fallen generals:
While the Six above were Soulblighter's replacements, other allies and heroes also aided in the war against the Light and should be listed as well:  
Ad blocker interference detected!
Wikia is a free-to-use site that makes money from advertising. We have a modified experience for viewers using ad blockers

Wikia is not accessible if you've made further modifications. Remove the custom ad blocker rule(s) and the page will load as expected.